Museum in the living room" – Hosting program for 2018″
Underground exhibition! Unique display.
A life story and a museum exhibition directly displayed to the viewer.

At Irit Kalechman's studio in Granot Hagalil, allowing dialogue with the artist.
The exhibition is: "Sipur Am",(A tale of a people) which was exhibited at the Okashi Museum.
The concept: Contemporary interpretation of the Biblical stories
which is a social, moral and political criticism of an artist, a sabra, not a young woman, who ,
experienced the reality of living in Israel.
The exhibition is displayed in an air-conditioned hall
And the works are presented to you one by one.
Refreshments: herbal tea and homemade cake made by Grandma Shula.
There are 2 bathrooms.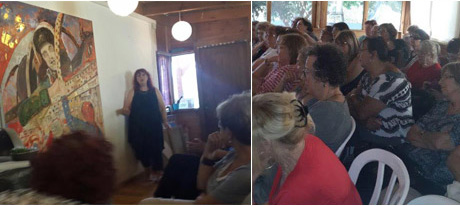 Activity time is about an hour and a half
Price: NIS 600 for a bus.
Small groups: please call me
See you in the studio